Night Shelter and Meals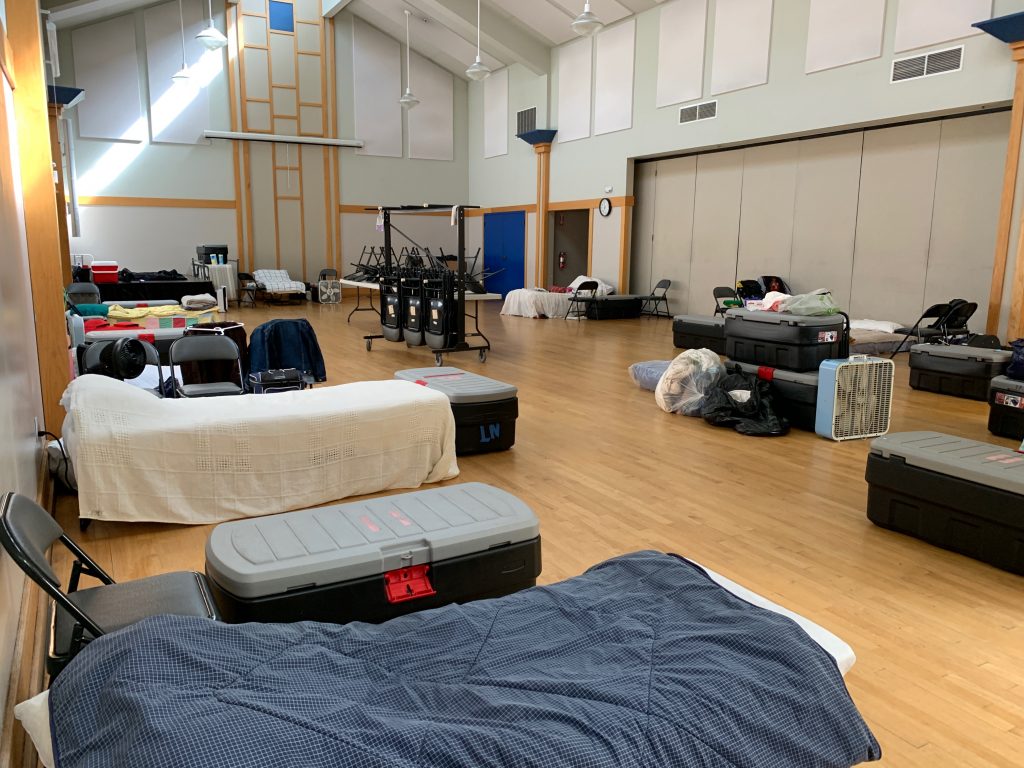 All Saints' devotes a significant portion of its outreach efforts to Hotel de Zink, a shelter program managed by InnVision and hosted by twelve Bay Area churches each month during the year. All Saints' is hosting Hotel de Zink in October when 12-18 clients reside in the parish hall during evenings. This is an all-parish event: each October, as many as ninety All Saints' parishioners make Hotel de Zink possible, coordinating services, preparing and serving meals and hosting our guests.  In addition, All Saints' fundraises for Hotel de Zink each year in different ways.
Hotel de Zink has a rich history in Palo Alto beginning in the early 1930s.
A Short History of Hotel de Zink
Hotel de Zink is Palo Alto's only homeless shelter. For more than 20 years twelve churches have taken turns each month providing food and shelter for 15 or so homeless men and women. Every evening one church opens its doors to the homeless for the night and its congregation provides home-cooked meals for the guests. Night supervisors hired by Hotel de Zink's operator, InnVision, attend to the shelter's guests' needs. Hotel de Zink shelters roughly 100 homeless each year.
The present-day Hotel de Zink is the brainchild of Jim Burklo, the founding chairperson of the Urban Ministry of Palo Alto and a one-time Associate Minister of the First Congregational Church of Palo Alto. In 1987, Jim Burklo visited church shelter programs in Santa Cruz and Berkeley and began planning for a homeless shelter with the Urban Ministry of Palo Alto. After many community and planning committee meetings Hotel de Zink opened in May 1989 in Palo Alto. Programs in Mountain View and San Jose were then modeled after it. Hotel de Zink is one of InnVision's Urban Ministry programs that now include the Food Closet, Breaking Bread Hot Meals and the Opportunity Center. Many unsung heroes, too many to list here, made these programs possible. InnVision assumed overall coordination after it merged with the Urban Ministry in 2002. In addition to the night supervisor staffing, InnVision provides the continuum of care needed to lead the shelter guests out of homelessness. InnVision's donors and your contribution support these supervisory functions.
Today's shelter is named after a Depression-era Hotel de Zink. It started in 1931 by Mary Belle Glover and her husband, Capt. J. W. Glover, with the support of the City of Palo Alto and its residents. It was named after Police Chief Howard A. Zink, an early supporter of the project. The hobos of the time were living in a tent city near San Francisquito creek. The then Hotel de Zink provided housing, meals, clothing and even medical care in a rented warehouse. It had a 13-bed hospital, a cobbler, a tailor, a barber, a newspaper and a dentist. Hotel de Zink served an estimated 50,000 homeless between 1931 and 1934.
The current Hotel de Zink host churches are Trinity Lutheran, Wesley United Methodist, First Congregational, Church of Christ, St. Mark's Episcopal, First United Methodist, First Presbyterian, Christian Reformed Church, Unitarian Universalist, All Saints' Episcopal, Friends Meeting (all previous of Palo Alto) and Menlo Presbyterian. Emeritus host churches include St. Andrew's United Methodist, First Baptist, and St. Thomas Aquinas.