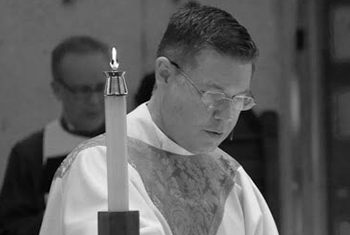 The Rev. Terry Gleeson
Rector
Office Hours: Tuesday, Wednesday, Thursday, 9am-4pm, and other days/hours by appointment.
When asked where he comes from, Terry is never too sure what answer to offer: Vermont, New York, the United States, Australia and Sydney are all possibilities. He was born, raised and went to seminary in Sydney, where he was ordained to the Roman Catholic priesthood in 1980. After ten years in parochial and then diocesan ministry, and with a graduate degree in education, he came to New York City to join a religious order and worked in the field of developmental disabilities and mental illness.In New York, Terry began worshipping at St John's in the Village, where he was received into the Episcopal Church in 1998. It was there that he met his partner Dennis. After completing a Masters in Sacred Theology at the General Theological Seminary, concentrating in Sacred Scripture, he was received as an Episcopal priest in 2003 and served at Christ and St Stephen's on West 69th Street. From there he was called as Rector of St Stephen's on the Green, Middlebury, VT, in 2005. The topics of classes Terry has taught in recent years are probably the best indicators of his deepest interests: Scripture; Liturgy; Monastic art, architecture and spirituality; and anything Italian.

Rodney Gehrke
Director of Music, Organist & Choirmaster
Office hours: Thursday 1:30pm-9:30pm; Choir Rehearsal: Thursday 7:30pm-9:30pm and Sunday 9:15am-9:45am.
Rodney Gehrke has been director of music at All Saints' since 2008. He is also organist and choir director at San Francisco's Temple Emanu-El and professor of organ at the San Francisco Conservatory of Music. Mr. Gehrke has performed and recorded with the Philharmonia Baroque Orchestra and has also made two recordings of Mexican Baroque music with Chanticleer, with whom he toured the Southwest and Mexico in 1998. More recently he has performed with the American Bach Soloists as continuo organist and harpsichordist. He can be heard on the CD collection ``Historic Organs of San Francisco`` as well as the collection "Historic Organs of Seattle." In 1985, he performed the complete organ works of J.S. Bach in 12 recitals in Bach's 300th birthday year.. His first organ teacher was his father, Hugo Gehrke. He also studied with Arno Schönstedt of Herford, Germany, David Dahl at Pacific Lutheran University, Lawrence Moe at the University of California, Berkeley, and Harald Vogel of the North German Organ Academy. He holds an M.A. in musicology from the University of California, Berkeley.

Susan Reaves
Parish & Campus Administrator
Office hours: Monday through Thursday 9am - 4pm, or by appointment
650.322.4528. ext. 303 for parish business and campus rentals

Renee Reaves
Facility & Building Maintenance

Debi Torres
Facility & Building Maintenance